Note:
Product will be shipped out in about 2 weeks after payment confirmed. If you have any questions please contact sales@ufactory.cc with your order number.
uArm Swift Pro Main Combo includes:
uArm Swift Pro main body*1
Suction cup*1 
Gripper*1
Universal holder*1
Pen holder*1
3D printing Kit*1
Laser Kit*1
Vision Camera Kit*1
Ultrasonic Ranger*1
uArm Swift Pro
uArm Swift series are consumer-level desktop robotic arms which are developed for makers and STEAM educationpurposes. Based on Arduino, uArm Swift series is open-source and DIY friendly. It's extremely easy to use, almost anyone can learn how to play with it in just a few minutes. It supports visual programming, which is beginner friendly, even a 9-year-old can pick it up easily. It also supports Arduino, Python, GRABCAD and ROS programming. 
Unleash the maker inside and get uArm to make your idea happen!
Media That Talked about Us 
With high quality gearbox and stepper motors built in, uArm Swift pro has a high repeatability of  0.2 mm and 500g playload. 
It comes with multiple extension ports with which you can expand its functions by changing end-effector and adding sensor modules like laser head, 3D printing head, Vision Camera Kit or even a drawing pen. Yes! You can literally turn it into a 3D printer, a laser engraving machine, or even an AI robot with visual tracking! It's time for you to get one on your desk! 
Features
Easy to Use: Offline Learning Mode
It's extremely easy for almost anyone to learn how to play with uArm robotic arm in a few minutes. Offline learning mode requires no coding experience or complicated assembling. You simply need to power it on, press record, teach it what to do by dragging it. Then it will just do what you've taught it. Just that easy!
Limitless Possibilities:Open Source
uArm Swift series are open-source and DIY friendly robotic arms. With extension ports built-in on the base and end-effector,
you can connect it with modules like OpenMV camera, Seeed Grove sensors, etc to expand it's possibilities. Whether you like to
program with Arduino, Python or ROS, you will definitely have fun with uArm in your maker life. 
Extendability
Swappable End-effectors 
High Repeatability
uArm Swift Pro has a repeatability of 0.2mm which is rarely high in consumer level robotic arms. With high quality
stepper motors and gearbox built in, advanced controlling algorithm embedded, uArm Swift Pro performs not only
with accuracy but also with smoothness and stability. 
3D printing
uArm Swift Pro works with 3D printing modules via 3D printing platform CuraForuArm. The 3D printing process is simple:
install CuraForuArm in your computer, mount the 3D printing kit tightly on the robotic arm, feed in PLA filament and you are
all set to go.
Laser Engraving and Drawing
Moreover, uArm Swift Pro supports laser engraving and drawing functions, which are already built in our all-in-one
software working platform uArmStudio. Simply install the laser head or mount the pen on the end of uArm, launch
uArm Studio and follow few steps, then you are good to go!
Visual Programing (No Coding Required!)
No coding skills? No worries! Blockly makes programming easy ever after. Whether 9-year-olds or adult beginners,
or whoever has that original passion of exploration and making inside of you, you can program uArm to do tasks in munites!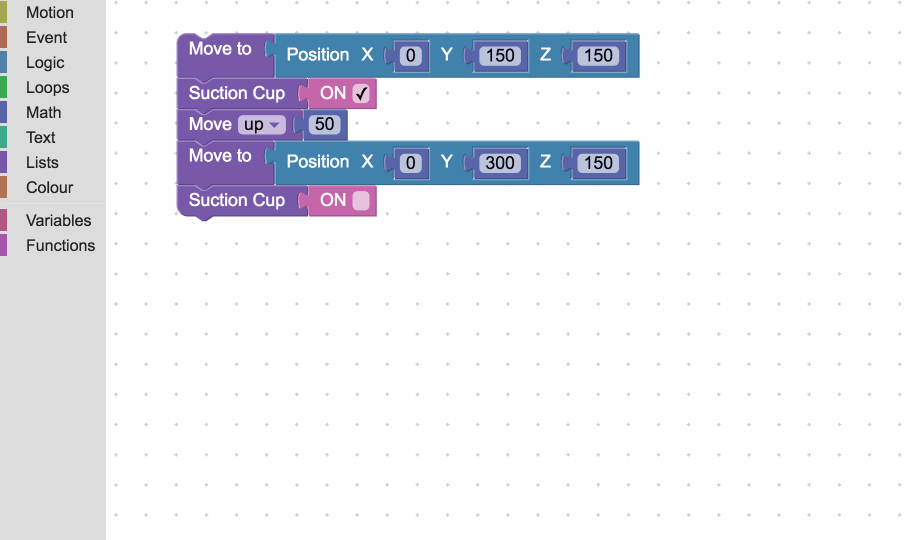 Dedicated Applications and Intuitive user interface
We have developed an all-in-one uArm software working platform and a dedicated mobile app for uArm products. 
The working platform, which also known as uArmStudio, comes in a clean and intuitive user interface with
instructions, setting and diagnosis built in for Windows, Mac OS and Linux.
uArm's mobile app, which also known as uArm Play, makes uArm robotic arm controlling and playing so easy,
just like playing a mobile game. Following our plan to make uArm a better way to learn and play for beginners and kids,
we are now working on embedding visual Blockly in uArm play. Android and IOS versions are available on our website.
Make with uArm Robotic Arms
uArm could be the extension of your imagination and creativity.
Either do a light painting, do laser engraving or have fun creating a little fun bar tending program, uArm is fully
capable. However far your imagination goes, uArm goes with you!
uArm Swift VS uArm Swift Pro
| | | |
| --- | --- | --- |
| | uArm Swift  |  uArm Swift Pro |
| Suction Cup | √ | √ |
| Gripper | √ | √ |
| Universal Holder | √ | √ |
| Seeed Grove | × | √ |
| USB Connection | √ | √ |
| Bluetooth Connection | √ | √ |
| Gesture Control | √ | × |
| Mouse&Keyboard Control | √ | √ |
| Laser Engraving | × | √ |
| 3D Printing | × | √ |
| Vision Control | × | √ |
| Painting and Drawing | × | √ |
| uArm Studio | √ | √ |
| uArm Play | √ | √ |
Specifications of uArm Swift Pro
Size
150*140*281mm
Weight
2.2KG
Freedom Degree
4
Joint
Customized gearbox+stepper
Repeatability
0.2 mm
Feedback
12 bit encoder
Payload
500 G
Working Range
50-320 mm
Max Speed
100 mm/s
Connection
USB/ Built in Bluetooth 4.0
Mother Board
Arduino Mega 2560 (Open Source)
Power Adapter
Input 100-240 V  50/60 HZ
Output 12 V/5 A   60 W
Working Temperature
O°C-40°C
 Freely choose end-effector for uArm Swift Pro
| | |
| --- | --- |
| uArm Swift Pro | 1 |
| Suction Cup | 1 |
| Adapter | 1 |
| Bluetooth | 1 |
| uArm Swift Gripper | 1 |
| uArm Swift Universal Holder |  1 |
| uArm Swift Laser Header | 1 |
| uArm Swift 3D Printing Module | 1 |
| Vision Camera Kit | 1 |
Documents & Resources 
Warranty
uArm Swift  Pro series comes with 12 months warranty, for more details please refer our After-sales Policies: https://www.ufactory.cc/#/en/support/policy